Top message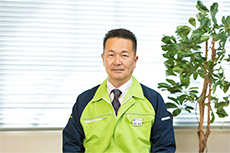 Chairman

Tetsuo Yuzawa

Since our establishment in 1980, we have set a trend in the new era for half a century working with people in the production and development section of business enterprises and with scientists and engineers at national and public institutions. Fortunately, we have been successful in our development into a prominent engineering company in Tohoku.

In serving a wide range of customers supplying production and R&D appliances, we have some experience not only in fulfilling specifications requested by customers, but also in securing universal functions of environmental friendliness and economic efficiency in addition to providing satisfactory reproducibility and reliability of accuracy, maneuverability, and safety

Our motto as an appliance supplier is "Do the obvious thing obviously" and we will surely be devoted to work as a good partner of customers based on the knowledge and know-how we have accumulated.

We ask for your continued consideration.
Corporate profile
Company name
G.E.S Corporation
Location
6-4-4 Shirakashidai, Rifucho, Miyagi-gun, Miyagi 981-0134, JAPAN
Contact information
TEL +81-22-356-1455
FAX +81-22-356-1438
Representative
Chairman  Tetsuo Yuzawa
President  Yoshihiro Takino
Corporation Lawyer
Kanzawa Law Office
Capital stock
JPY 32,000,000
Established
Since December, 1979
Incorporation of enterprise
Since January 1981
Number of Employee
52(as of May 1, 2021)
Business field
Design and fabrication of labor-saving apparatus
Apparatuses related to automobile parts and conversion devices
Carrier devices for parts used in electric, electronic, and other devices
Design and fabrication of jigs and tools
Jigs and tools for metal working, those for assembly, those for inspection, and other tasks
Design and fabrication of scientific instruments
Vacuum appliances for R&D, single crystal growth apparatus, electric furnaces, and other devices
Affiliated company
Techno Pro Co., Ltd
Industrial appliance agent and sales of variety of instruments etc
TEL: +81-22-356-7241
Equipment overview
Building
Head factory: 6-4-4 Shirakashidai, Rifucho, Miyagi-gun, Miyagi 981-0134, JAPAN
Lot area: 2804 ㎡
Building A first floor (assembly)
869㎡
Building A second floor (design and business)
260㎡
Building B
412㎡
Building C
198㎡
Access
CAR

A 5 min ride from Shirakashidai interchange.

TRAIN

Embark on a train at JR Sendai station and disembark at Iwakiri Station, which is a 12 min trip. Then, take a taxi to our company, which is about a 15 min ride from Iwakiri Station.
Click here to examine a related Google map.